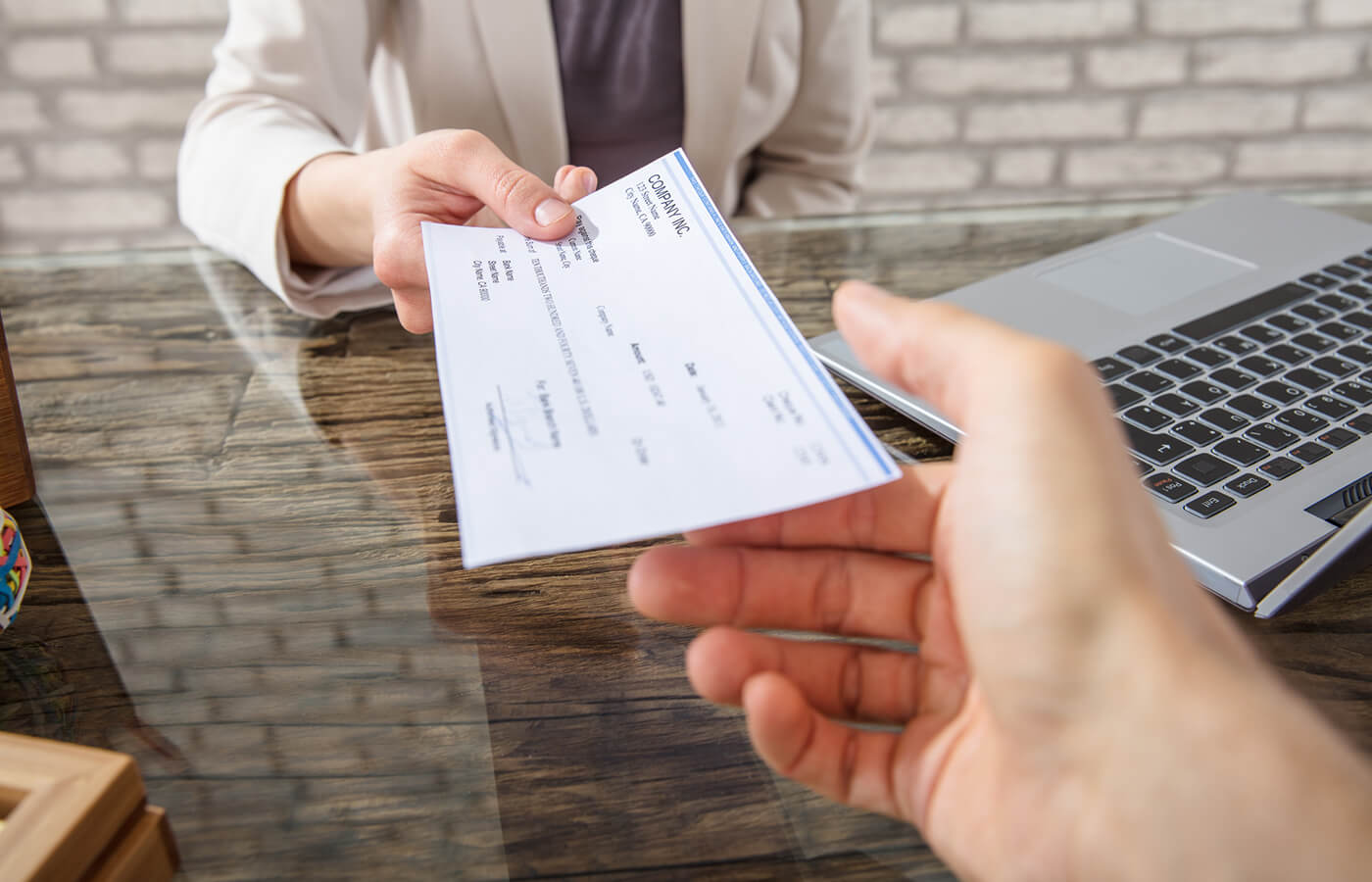 How to Cash a Check?
In recent years there has been a sharp increase in the number of digital methods being used to make payments, be it through debit and credit cards or electronic transfers. Although declining in popularity, checks still account for 12% of non-cash payments made in the United States today. The majority of those still writing checks are over 25 years of age. Writing and cashing checks are seen as outdated by many, however, they are useful in certain cases such as dealing with a business that does not accept credit cards or an individual who is not able to access digital payment methods. 
Learn more about bill counting machines.
Before Cashing a Check
Certain steps need to be followed if you have received a payment by check. It is possible to cash a check even if you are unbanked. However, it can be useful to open a checking account at a bank, either online or in-person, if cashing checks is something that you do often. For those who have not done it before, below are steps detailing what to do before cashing a check:
Confirm the location that will cash the check - those who are banked or have a credit union account can visit their respective financial institution's branch or ATM. For those who have neither of these, it is important to inspect the front of the check for a bank name or logo, telling you which bank to visit. 
Inspect the check closely - unfortunately, fraudulent checks are a reality. Attempting to cash a fake check, regardless of whether or not you were aware, can result in legal complications, being forced to pay fees to the bank, or being cheated out of your money. Thoroughly inspect the check for any suspicious signs such as an unusually high amount, incorrect personal details of the payee, and missing security features such as watermarks, bank logo, or padlock icons. If you are still feeling uneasy after thoroughly inspecting the check, it is recommended to call the bank from where the check was issued to confirm funds in the account.
How to cash a check at your bank and other banks
"Can I cask a check at any bank?" is a common question. The procedure when cashing a check at your bank differs slightly from that when using another bank:
Have proof of identity available - It is common for the bank teller to request account holders to provide identification in the form of an ID, valid driver's license, and often your bank debit card. Those who are unbanked will follow the same procedure before giving the check to the bank teller in exchange for cash. 
Fill in a deposit slip - Once arriving at the bank with all the relevant documentation, you can then fill out the deposit slip with your account number and the corresponding amount on the check. Most deposit slips also have a section where you can request cash back.
Proceed to the bank teller - Proceed to the next available bank teller where you will hand over the requested documentation. 
Endorse the check - When cashing a check, never sign it before arriving at the bank. To ensure ultimate security countersign your name on the dotted line at the back of the check, in front of the teller.
Deposit the check and withdraw cash if needed - If the check you are attempting to cash is from your bank, the bank might request you to deposit the money into your account, rather than cash it. However, if you need cash immediately and have adequate funds in your account you can make an immediate withdrawal after depositing the check into your account. Banks reserve the right to only clear $200 per business day for personal and commercial checks, while the full amount of government-issued, payroll, and cashier's checks may be cleared immediately. This occurs because banks trust that these institutions have the necessary funds available.
When cashing a check from a bank that is not your own:
Visit the bank that furnished the check - As mentioned above, check the front of the check to determine from which bank the check was issued. Cashing a check at a bank where you do not have an account can result in a small fee or being turned away because you are not a customer. However, most banks are obligated to cash checks if the account in which the money is being drawn from has sufficient funds.
It is mandatory to cash the check in person - Wait to be assisted by the next available bank teller. You might also be asked to provide proof of identity.
Withdraw the cash - If you are cashing a check from a bank that is not your own, and the account you are drawing money from has enough funds, you will be given the cash immediately.
Deposit or get cash?
Some customers choose to deposit their money immediately into their account while others choose to receive cash. Cutting-edge money counting machines are used by all major banks, and ensure that the cash you withdraw is counted quickly. If you intend to withdraw large sums of money, advanced money counting machines ensure a seamless and efficient money counting experience while also supporting multiple denominations. For those who are dealing with their bank and do not require the cash immediately, it would be recommended to deposit the cash into your account to keep the money safe and to avoid spending on unnecessary purchases. A direct deposit may also need to be made if the full value of the check cannot be cashed yet. It is also possible to make a deposit using an ATM or your mobile device, although holding times for these options might vary.
Other ways to cash a check
Can you cash a check at an ATM? Yes, you can. This and a variety of other methods can be used to cash a check:
Major retailers - You can visit your nearest retailer, such as Walmart, to cash business and wage checks. It is not always guaranteed that personal checks will be cashed. A benefit of using a major retailer is the negligible fees that are charged.
Cash and withdraw a check at an ATM using a prepaid debit card - A number of banks, such as Chase Bank, are now offering prepaid debit cards for unbanked consumers. This can eliminate the inconvenience of bank queues for many unbanked people wishing to cash a check. First find out which ATM near you allows check deposits, as not all ATMs do. Certain cards may charge a fee to withdraw cash and deposit a check. Payroll debit cards are being offered by major financial institutions, such as American Express and MasterCard. They are also offered by employers such as Taco Bell, Walmart, and Walgreens. Remain vigilant of hidden fees when considering these options.
Endorse the check to a trusted individual - It is possible to sign the back of the check to someone that you trust and are on good terms with. Doing this will enable them to cash the check on your behalf.
Use a specialized cash-checking facility - Many consider this option as a last resort due to the exorbitant fees and the high commission (usually over 10%) charged. These companies are often able to give you the bulk of your cash immediately.
Conclusion
Checks are still needed and used by households that do not have access to the internet, relying on checks and cash to make payments and be paid. Financial institutions and employers have introduced new ways to cash checks that accommodate both banked and unbanked consumers as well as those who may not have access to the internet. Although considered obsolete by many, checks still occupy an important place in American society, serving the 10% of American adults who do not have access to the internet today, and the many small businesses who do not accommodate digital payment methods.