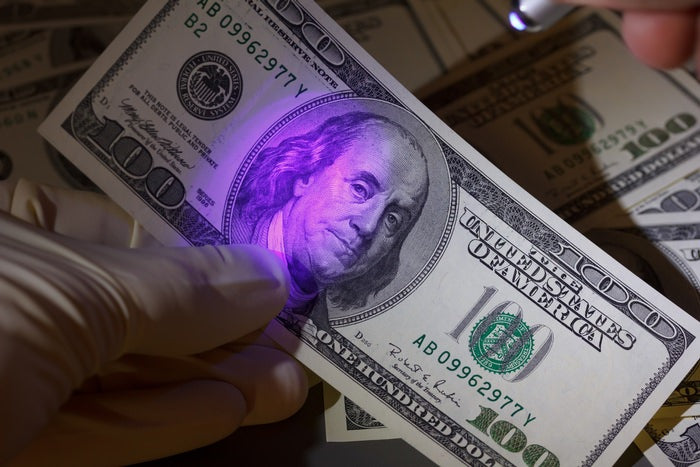 How Does the Government Track Marked Bills?
Cash is something that we use daily, but have you ever thought about who is tracking your dollars or how you can do it? The former is not something for the majority of citizens to worry about, as it only pertains to illegal activities. The most common way to track down marked dollar bills is to use UV markings and note the serial numbers of the bills. This article will take a closer look at these questions: what is a marked bill, what does marked money look like? It will also discuss how you and I can  track our money using a dollar serial number tracker.
For efficient cash handling, make sure to check out the latest bill counting machine options available on the market. These machines can save your employees valuable time and reduce the risk of errors in your financial transactions.
What is a Marked Money and Why Would the Government Track Them?
Marking is a technique used by police to identify and trace  money back to  individuals taking part in illegal activities, such as bank robbers. The markings placed on these dollar bills are not  visible to the naked eye, such as with the use of UV ink technology. Reliable counterfeit bill detectors are able to detect these UV markings, ensuring accurate counterfeit detection every time, as counterfeit money is a much more prevalent problem than many would think. The serial numbers of the bills are recorded once they have been marked. If a criminal has been caught with stolen banknotes, the serial numbers will be checked by looking at a list that has been compiled of all the serial numbers of marked bills, making it easier for law enforcement to crack down on any illicit activities.
There is also a possibility that if marked bills enter the banking system, they may be scanned if they make their way into any of the federal reserve banks, allowing police to track down where the money was last used. However, once the money has been deposited, it will be very difficult to determine exactly who  deposited the marked bills.
How to Track Dollar Bills
The internet has made it possible for initiatives such as wheresgeorge.com to be created. This project is centered around tracking $1 bills and the journey  these notes  undergo as they traverse different states and zip codes. Projects such as these may not make sense to many, however, they have played an important role in providing visual evidence of the flow of currency. Wheresgeorge.com is not the only website like this and it is not uncommon to be able to track different currencies such as Euros and Canadian dollars on EuroBillTracker.com and Where's Willy? respectively. As mentioned, websites such as these rely on people to provide information to help track money. As bills change hands and travel across cities, their locations are uploaded to money tracking websites, steadily increasing the tracking history of the notes as they come into contact with more people and more data is entered.
After logging onto the website for the relevant currency, you will be required to enter your banknote's serial number. Serial numbers may be found on the left-hand side of a US dollar bill. After entering the serial number, check which other fields need to be filled in. This will usually include your zip code, your country, and the note denomination. . If your chosen website does not store the information that you have entered, it is recommended to store it somewhere else, either by writing it down or creating a spreadsheet.
After inserting all the necessary information it is important to get the bill back into circulation - preferably at a store that mostly uses cash. Check the relevant currency tracking website often to see if the bill has re-entered circulation and where it is now. It can be fun and interesting to track what happens to your bills as they stay in circulation.
Conclusion
Dollar bills are recorded and sometimes markings are made to assist law enforcement officials in tracking down paper currency. Ordinary individuals can track the history of their own currency and are also able to contribute to its history by logging the details of the bill when it is in their possession.