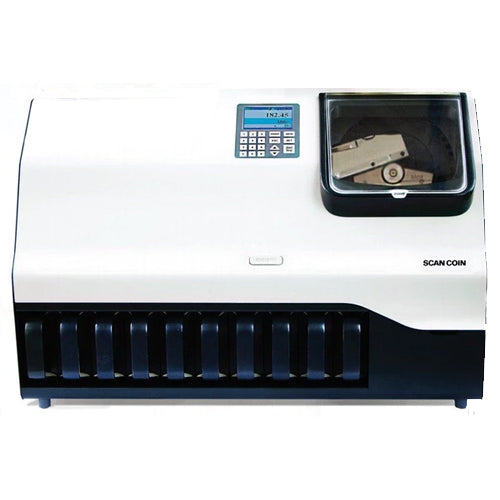 Sale
-7%
Sorts, counts and rejects foreign and damaged coins
Touchscreen display
Accessible keypad
Advanced sensory technology
Made with durable metal
Guarantees efficiency with the option to install a second solenoid for optimal sorting.
Our DTC 6 Coin Sorter blend of durable hardware and advanced software ensure that your US currency coin needs are in good hands. The coin sorter may also be customized easily with a variety of different accessories, creating a coin sorter that operates optimally at all times.
This machine counts up to 600 coins per minute and sorts them into boxes
May be customized by adding bag holders and coin tube holders
Features automatic rejection of foreign and damaged coins
Includes programmable batch stops
The coin sorter is equipped with hardware ports that are compatible with a computer and SoftOne interface – ensuring favorable connectivity.
This machine can sort and count US coins
Specifications
No specs available
See or download the DTC 6 Coin Sorter for more details. Order the DTC 6 Coin Sorter today.
Bill Counter Reference Chart
FREE ground shipping to continental USA.
Worldwide shipping available.
Standard Shiping
Most orders are processed through our warehouse within 72 hours of receipt and are shipped by UPS. Orders will normally arrive 4 to 7 business days after order placement. Shipping and Service Charges include apportioned shipping, order processing, packaging, returns processing, credit services, customer service and other costs related to serving you.
Priority Shipping
Priority shipping is available for all items. Priority orders are shipped the same day or the following business day, and usually reach their destination 2-3 business days after order placement.
Next Day Shipping
Available to most non-rural destinations within continental USA.
Canada
All Canadian orders are shipped via Fedex International Economy, which means there are no additional charges associated with importation from US on the receiver's side, including customs clearance or import duty. Depending on the customer's address (commercial or residential), a commercial use tax of 5% of the item's declared value  may be assessed. This is done at the Canadian customs service's discretion.
Other Destinations
Shipping is available worldwide. Please choose from the available shipping methods and charges will be displayed. Purchaser is responsible for any import duties, fees, or taxes collected by their local government.
Please contact us via email at info@carnation-inc.com with any questions about shipping policies or methods.
The DTC 6 counts up to 600 coins per minute and sorts them into boxes (US coins only).
The DTC 6 is a strong performer in sorting and counting, as well as in rejecting foreign and damaged coins.
The DTC 6 relies on proven sensor technology and has reliable construction that ensures years of operating excellence. It is built of strong metal.