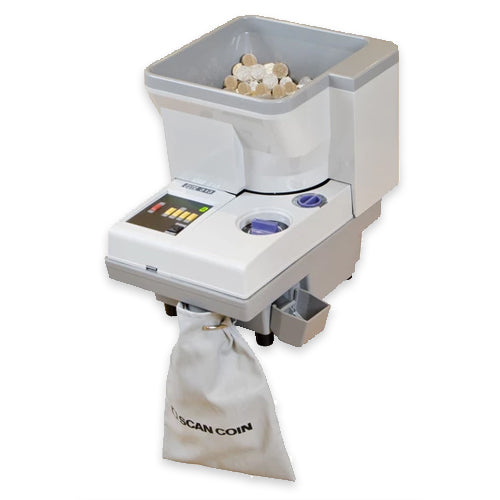 Sale
-14%
Efficiently counts large volumes in a compact, easy to transport package
The tilting coin tray has been replaced with an automatic coin hopper – accommodating larger volumes of coins.
Microprocessor controlled with non-volatile memory means no battery backup is required.
Three memory levels with a sub-total, grand total and a separate bag count memory.
Pre-programmed stops, up to 7 different values, with manual override, from 1-10,999 and infinitely.
Easy to read six-digit green LED display.
Our CS 313 Coin counter knows that time is money. With efficient counting speeds and new features such as the automatic coin hopper, it is guaranteed that large volumes of money will be counted quickly. The persistent memory feature will ensure that you will no longer have to worry about important data being lost.
This machine can count 2700 coins/minute
The machine's compact form factor makes it easy to transport
Equipped with universal counting, verifying or bagging
Includes a side bag attachment for rejected coins
Specifications
Width 260 mm/10.3"
Depth 370 mm/14.6"
Height 315 mm/12.4"
Weight 11.6 kg/25.6 lb
Voltage Power 55 W
Speed up to 2,700 coins/min.
Diameter 14-34 mm/0.55-1.34"
Thickness 1.0-3.4 mm/0.04-0.13"
Hopper capacity 3,000 cc (3 litres)
Accessories and Options
CA 1 Coin adapter
IH 1 Insert holder
TI 1 Tubing inserts (for prefabricated coin tubes)
BGS 1 Bag guide with shelf
BG 1 Bag guide without shelf
BA 3 Bagging attachment (for rejected coins)
HE 1 Hopper extension kit
FREE ground shipping to continental USA.
Worldwide shipping available.
Standard Shiping
Most orders are processed through our warehouse within 72 hours of receipt and are shipped by UPS. Orders will normally arrive 4 to 7 business days after order placement. Shipping and Service Charges include apportioned shipping, order processing, packaging, returns processing, credit services, customer service and other costs related to serving you.
Priority Shipping
Priority shipping is available for all items. Priority orders are shipped the same day or the following business day, and usually reach their destination 2-3 business days after order placement.
Next Day Shipping
Available to most non-rural destinations within continental USA.
Canada
All Canadian orders are shipped via Fedex International Economy, which means there are no additional charges associated with importation from US on the receiver's side, including customs clearance or import duty. Depending on the customer's address (commercial or residential), a commercial use tax of 5% of the item's declared value  may be assessed. This is done at the Canadian customs service's discretion.
Other Destinations
Shipping is available worldwide. Please choose from the available shipping methods and charges will be displayed. Purchaser is responsible for any import duties, fees, or taxes collected by their local government.
Please contact us via email at info@carnation-inc.com with any questions about shipping policies or methods.
The CS 313 has a counting speed of up to 2 700 coins/minute.
The CS 313 has three memory levels with a sub-total, grand total, and a separate bag count memory.
Banking, retail, amusement, and other businesses.