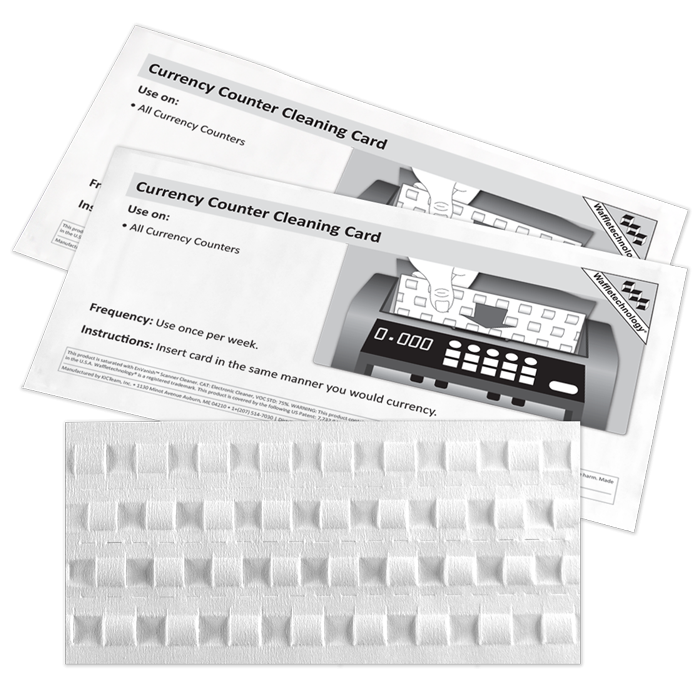 Thoroughly cleans a wide variety of currency counters
Patented Waffletechnology™
Ensures thorough cleaning of all parts
Burnish rollers
Our currency cleaning cards are equipped with patented waffle technology, ensuring that currency counters from a multitude of manufacturers are meticulously cleaned. The card cleans parts such as recognition lenses, surfaces around belts and rollers and feed paths. Regularly servicing these parts with our specialized cleaning cards ensures the longevity of currency counters.
Equipped with advanced cleaning technology
Specifications
Part Number: KW3-CC3625B15WS
Components: Nonwoven Fabric Bonded to a Plastic Core
Appearance: White
Product Dimension: 3" x 6.25"
Cleaning Agent: WonderSolvent™
Special Features: Waffletechnology®
Quantity: 15 Cards per Box
Package Type: Chipper Box
Bill Counter Reference Chart
FREE ground shipping to continental USA.
Worldwide shipping available.
Standard Shiping
Most orders are processed through our warehouse within 72 hours of receipt and are shipped by UPS. Orders will normally arrive 4 to 7 business days after order placement. Shipping and Service Charges include apportioned shipping, order processing, packaging, returns processing, credit services, customer service and other costs related to serving you.
Priority Shipping
Priority shipping is available for all items. Priority orders are shipped the same day or the following business day, and usually reach their destination 2-3 business days after order placement.
Next Day Shipping
Available to most non-rural destinations within continental USA.
Canada
All Canadian orders are shipped via Fedex International Economy, which means there are no additional charges associated with importation from US on the receiver's side, including customs clearance or import duty. Depending on the customer's address (commercial or residential), a commercial use tax of 5% of the item's declared value  may be assessed. This is done at the Canadian customs service's discretion.
Other Destinations
Shipping is available worldwide. Please choose from the available shipping methods and charges will be displayed. Purchaser is responsible for any import duties, fees, or taxes collected by their local government.
Please contact us via email at info@carnation-inc.com with any questions about shipping policies or methods.